---
Hours of Operation
Monday - Friday:
8:00 AM - 6:00PM
Sunday by appointment.
---
Are you a college student at Iowa State University? Hap's offers student discounts! Call us today for more information.
Ames has been experiencing increasing drone traffic and we do not always have advance notice of drone operations.
---
Please be vigilant when flying around Ames.
---
Transportation: Hap's has a crew car available during our regular business hours.
Rental Car Companies in Ames:
---
---
Our Legacy at Hap's Air Services
Hartley (Hap) and Jane Westbrook started Hap's Air Service, Inc. in 1947, in Guthrie Center, IA. Hap returned from flying B-24 bombers in the European theater of WWII, where he spent two years as a POW. Afterwards, they moved the operation to Atlantic, IA in 1952, where they raised their five children and succeeded in turning a small fuel stop into one of the busiest airports in Southwest Iowa. Hap's made the final move to Ames in 1975, and the family has been instrumental in making the Ames airport one of the busiest airports in Iowa. Regrettably, in November 2000, the family lost Jane (our heart) and in October 2002, Hap (our leader) suffered a heart attack and passed away due to complications.
Thanks to the love Hap had for his craft, the family has been instilled with a love of aviation and commitment to customer satisfaction. We work every day to keep the traditions and values the company was founded on in 1947 alive. Hap's Air Service is currently owned and operated by Hap and Jane's daughter , Diana, and her husband Robert Holden. Both have been working at Hap's since 1975. Robert is the Director of Maintenance and is well known for his extensive knowledge of aviation. He has made Hap's Air Service one of the most well known and respected maintenance shops in the Central United States. Diana and Robert, with the help of their daughter Christa, currently ensure the family is carrying on Hap and Jane's business legacy today. 
---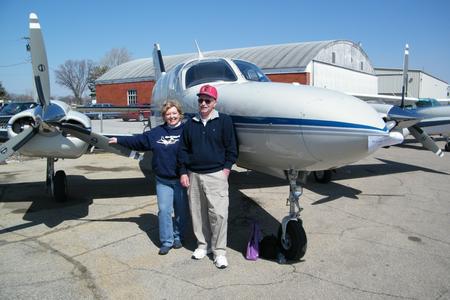 Daughter, Diana and her husband Robert are second generation owner/operators of Hap's Air Service
---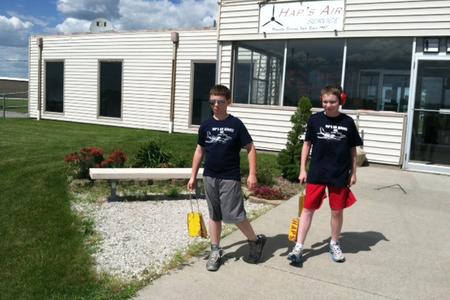 Max and Alex Smalley, Hap and Jane's great-grandsons are also learning the family trade.
---